Announcing Kitwind
May 17, 2020 — 2 min read
I'm very excited to announce, that we're halfway of releasing our brand-new project - Kitwind, which will include 200+ fully responsive, multi-purpose sections, built with Tailwind CSS, to help you bootstrap your next website.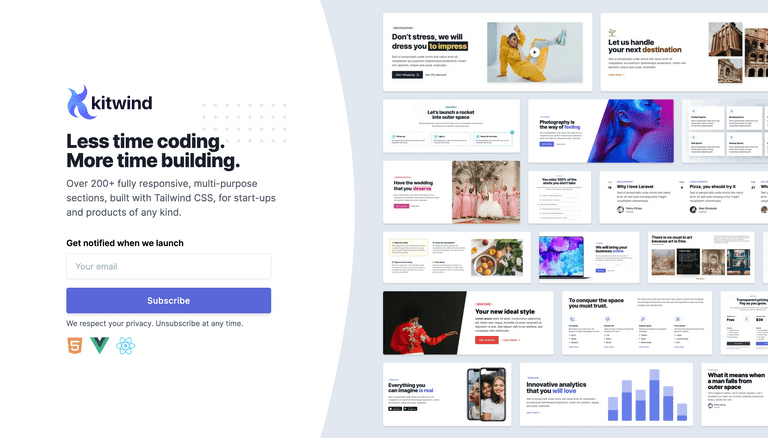 Kitwind isn't only about quantity. We're carefully crafting all the sections, one by one, paying attention to small details, accessibility, clean code, beautiful interactions, and most importantly, designing charming and unique sections.
During the years, we've noticed that a lot of UI kits and website builders are giving birth to websites with a very similar look and feel. Keeping that in mind, one of our goals is to ship a diversified collection of sections, which can be combined in various, creative ways.
We are sure that Kitwind will give you all the necessary ingredients to prepare the secret sauce, which will give your websites a special vibe.
All sections and components will come in pure HTML, VueJS, and React, so that you'll have more time to focus on building products, rather than writing code.
The pricing model is fairly simple. Pay once - get life-time access to all the sections and upcoming updates. Use the sections on unlimited commercial projects.
We have not yet established the price, but we're aiming to make the product affordable for everyone and set a fair price, under $99. Also, we will be providing big discounts to support you during the pandemic.
If it sounds interesting to you, follow us on Twitter (@kitwindio), and visit the official Kitwind website (https://kitwind.io), to subscribe and get notified when Kitwind gets released.
We are looking forward to seeing all the cool things that you will build!
---
Join the Newsletter
Subscribe to get my latest posts by email.
---